The Joy of Six 2016 - Part One
20th Jul 2016
Yes, part one, as this year's JOS was so damned good that I really did not want to short change the event or the people who took so much time and effort to stage what was an outstanding crop of games showcasing 6mm wargaming.
If you are one of the few people on the planet for who 6mm wargaming, 'has no appeal', (honestly, I despair!), then please turn down the prejudice rating just a few notches and be prepared to see exactly what the small scale stuff can do.
One again, after a cloud start, the Sun decided to turn up good and proper to the Joy of Six which illuminated the atrium area creating patches of dazzling light and contrasting shadow, which looked dramatic but messed up some photographs. The very small organising team, sporting their brand new natty yellow staff t-shirts, ran around in blind panic for a couple of hours prior to the 10.00 opening time and then headed for the café in various stages of nervous exhaustion. Around them, the traders and exhibitors had quietly and efficiently turned some rooms full of tables into what actually looked like a wargames show.
And what does a wargames show actually look like? Well, let's show you what the Joy of Six and 6mm wargaming is all about. Thanks at this stage to Nick Johnson for doing all the photography.
Let's start with a couple of overview shots of the main atrium: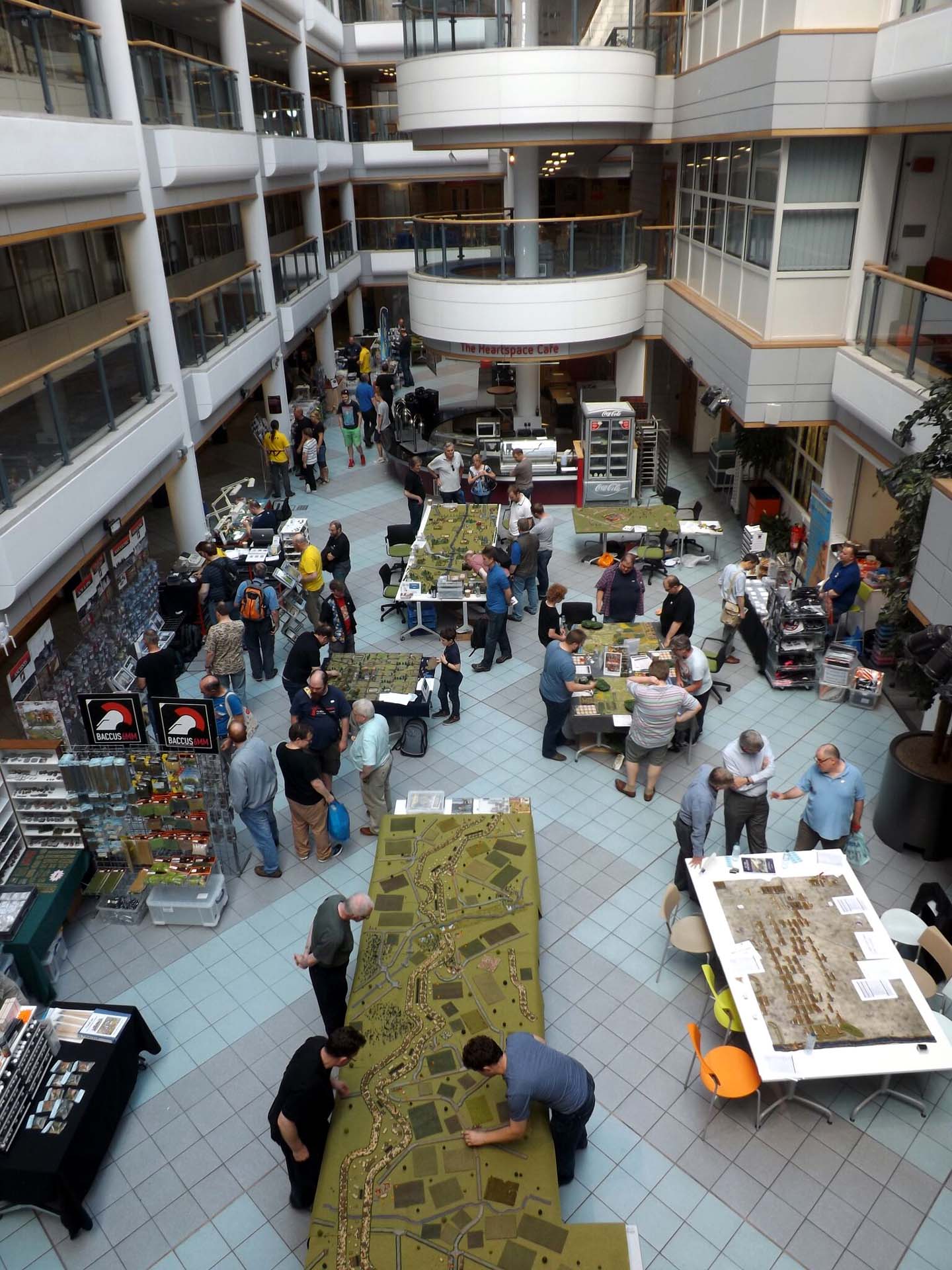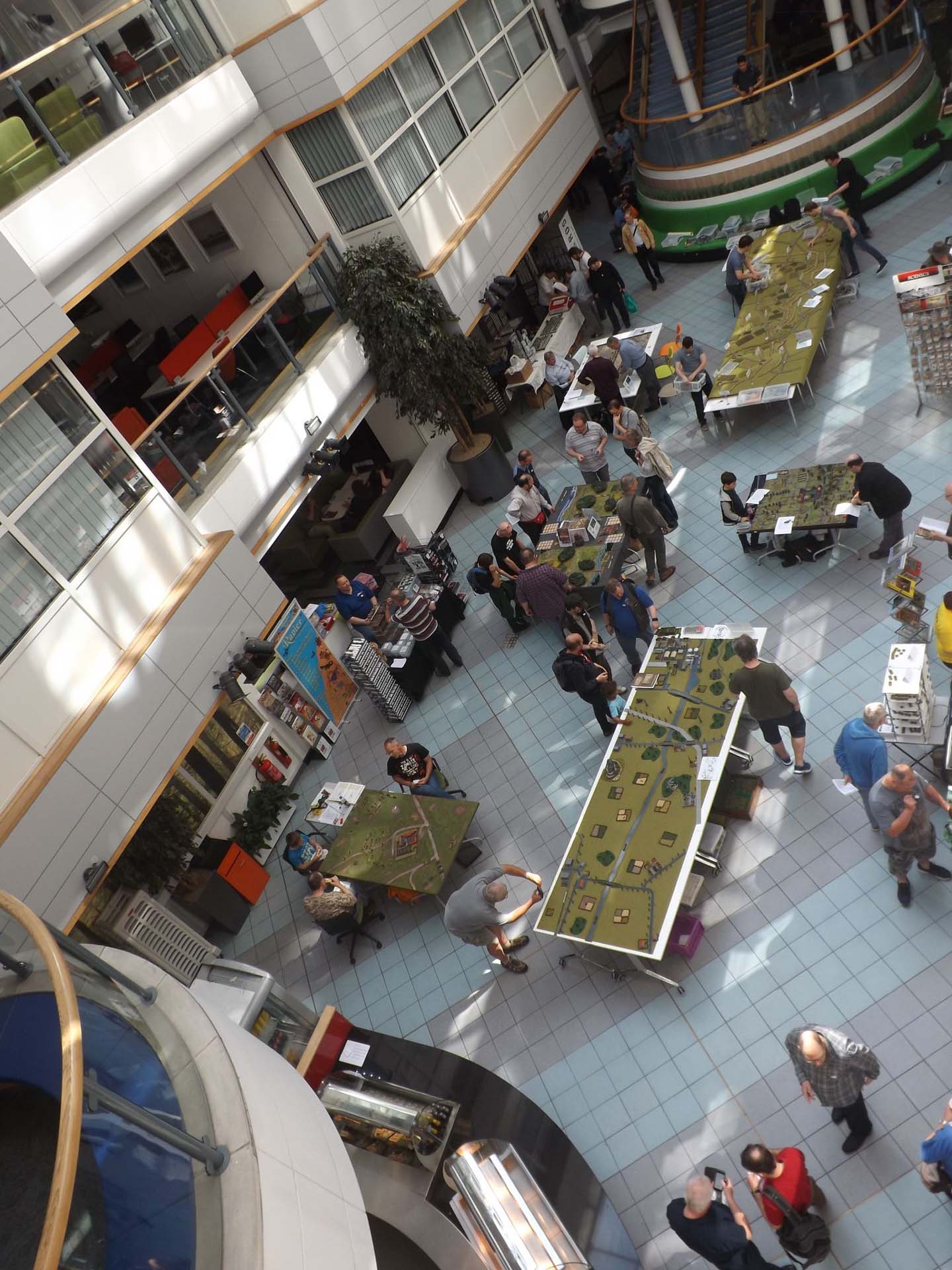 Yup, a nice combination of wargames, traders and people interested in looking at both of the former. I'll be following the showing guide so, let's start with games G1 and G2, both from Milton Keynes Wargames Society and both featuring DBMM played with 6mm armies: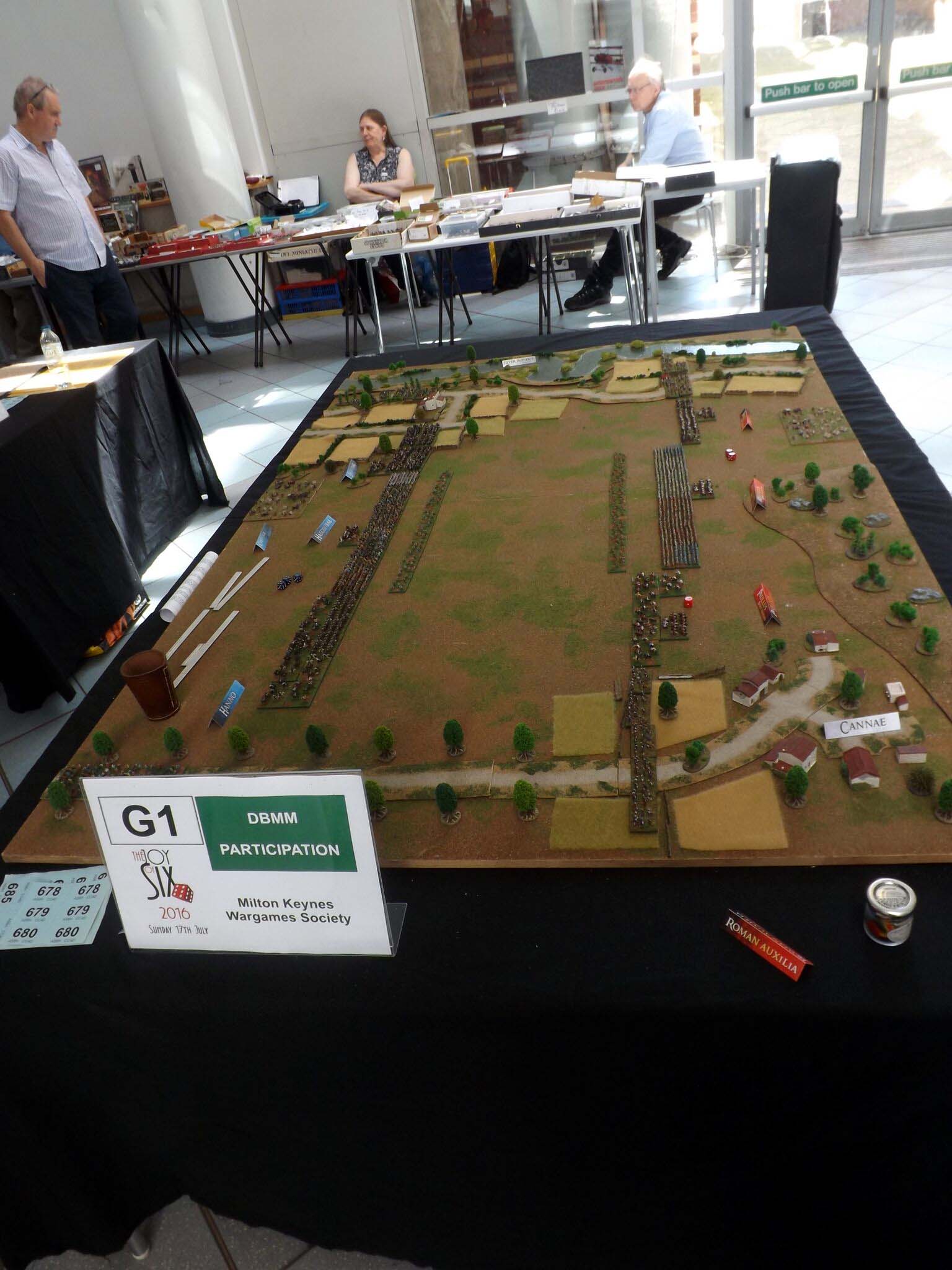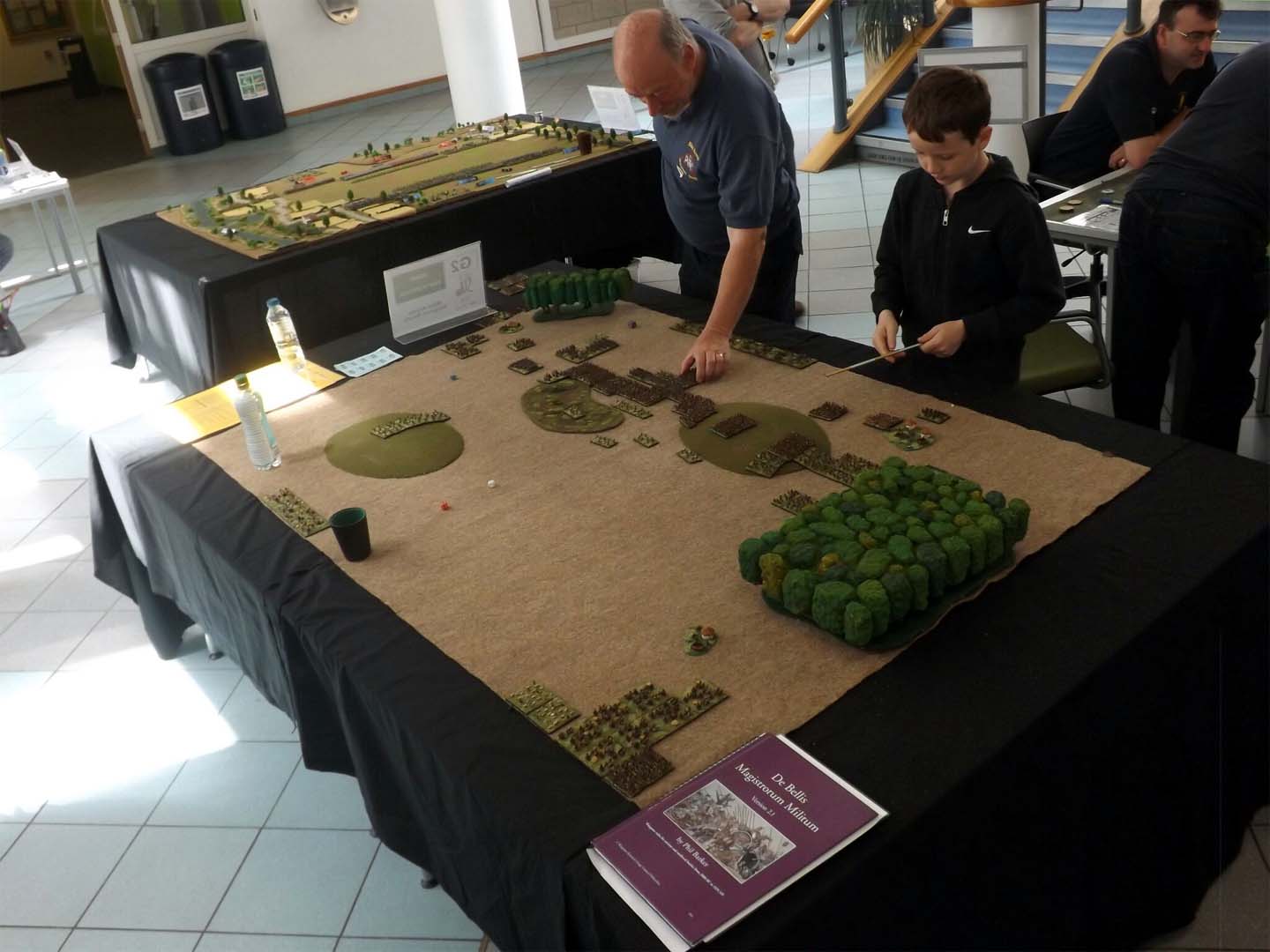 Both really nice looking games, and both showcasing how a set of rules prefixed DB something don't actually HAVE to be played with 15mm figures and to be honest presents a better visual spectacle for the change in scale.
By complete contrast, the next game, G3 The Bridge at Remagan from the Deeside Defenders just aimed to recreate the film of that name with the Allies attempting to get across the Rhine before the Germans managed to blow the eponymous bridge up. Some lovely modelling and very neat terrain contributed to an impressive game.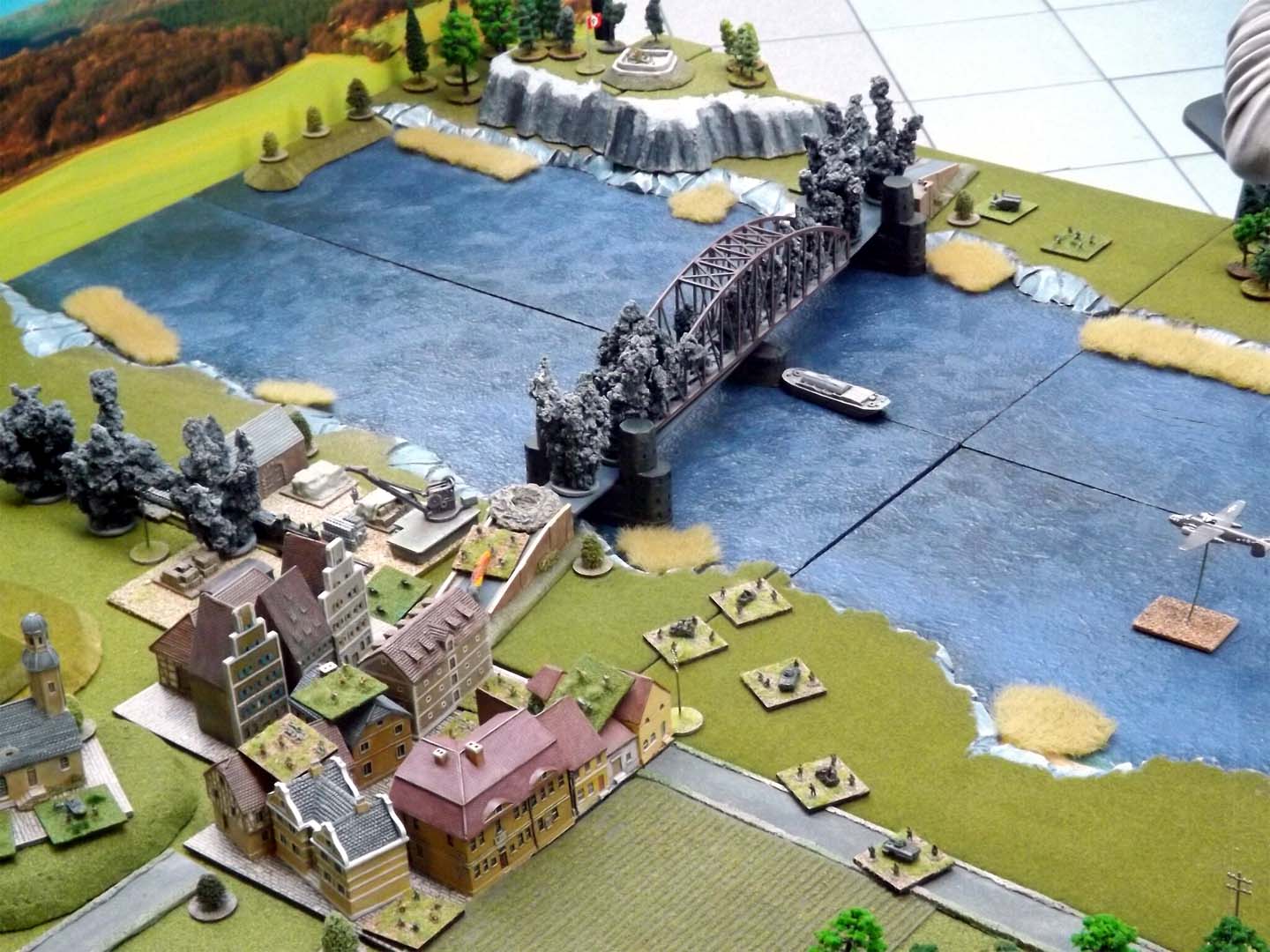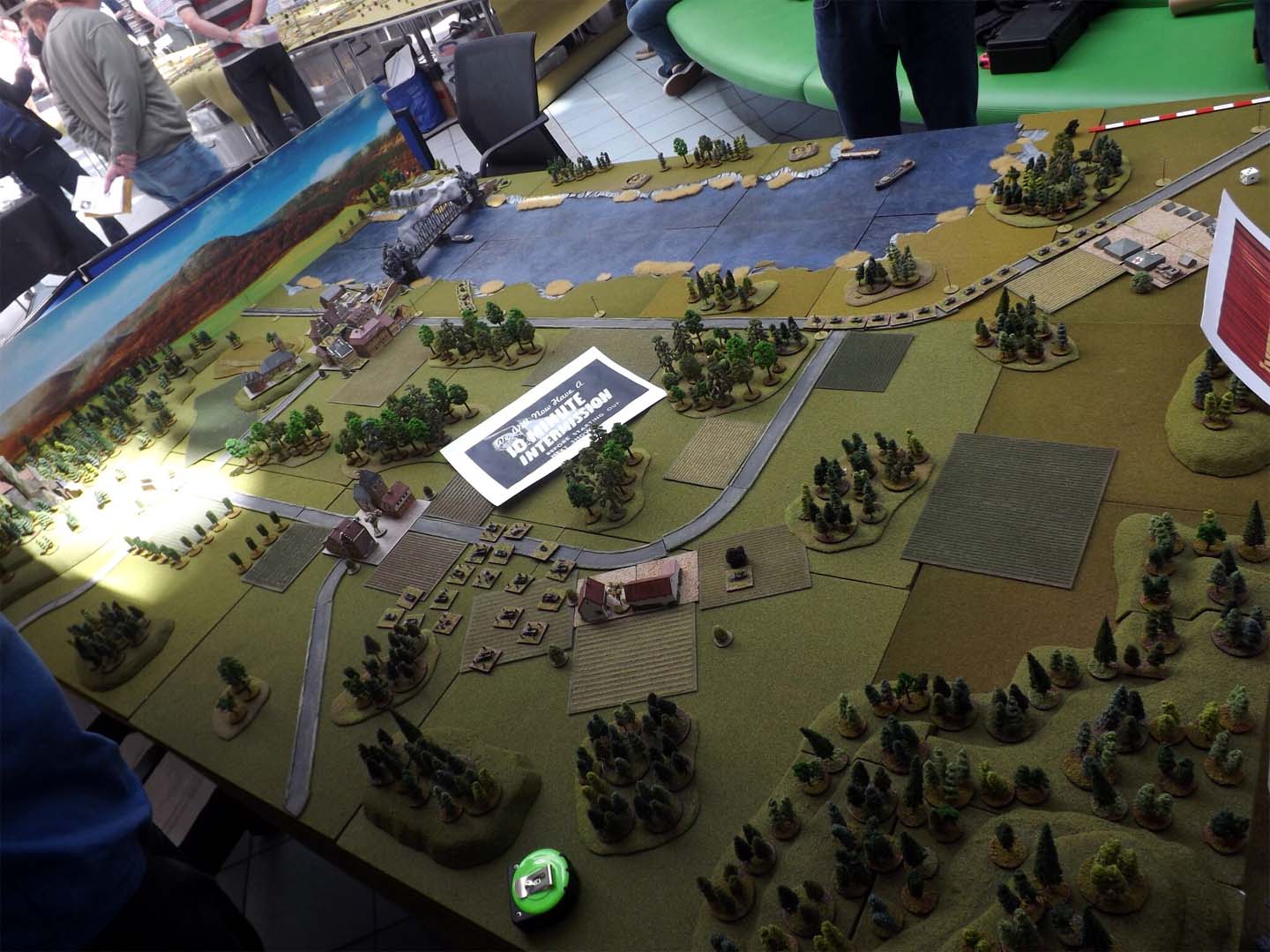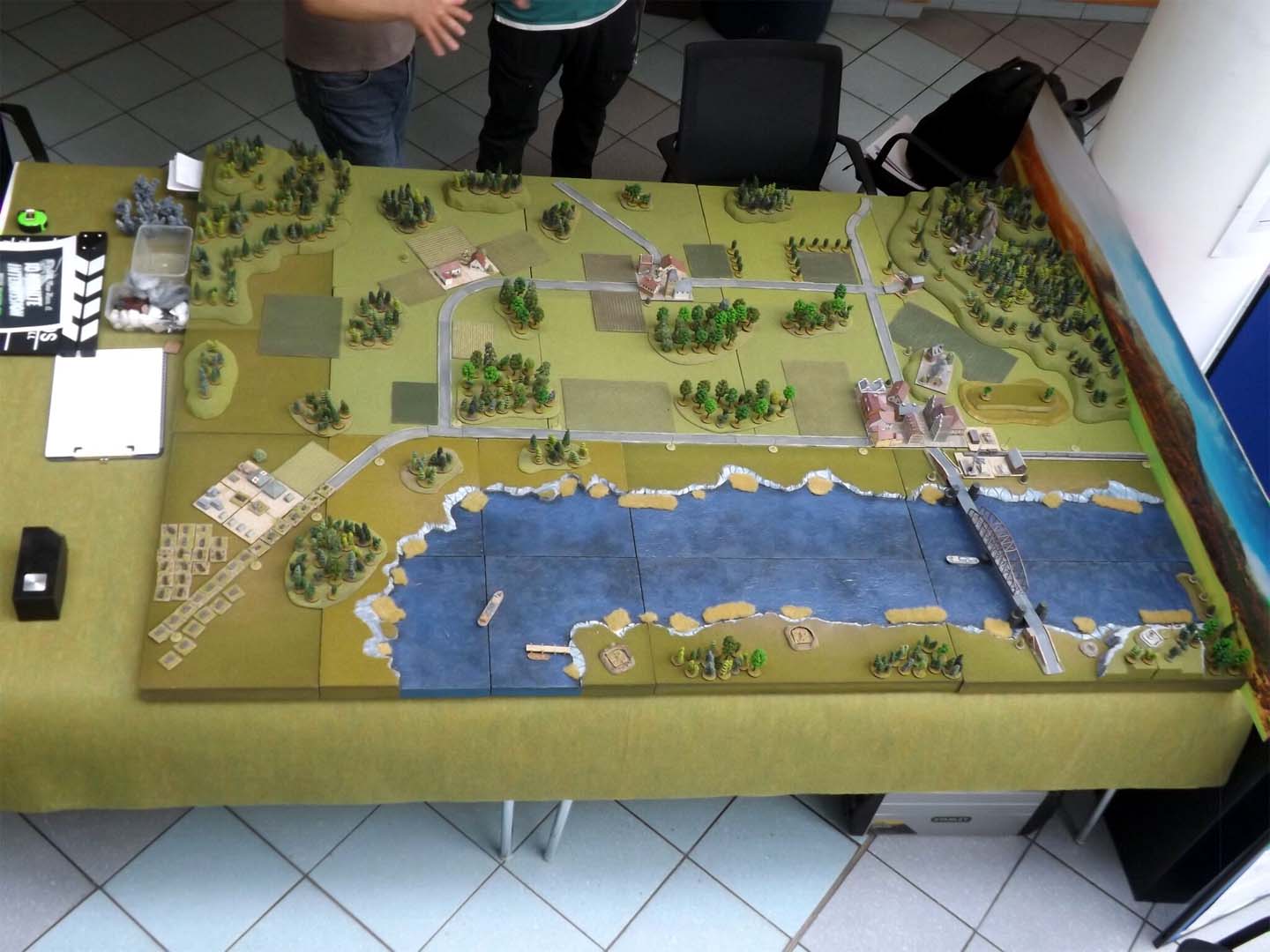 Staying with WW2, game G4 Ground attack from the Leeds Wargames Club gave wargaming public a great opportunity to get rid of some build up stress by blowing a beautifully painted little train and track into small pieces using nothing more than the odd rocket armed fighter. As usual the Leeds club just enjoyed themselves and their enthusiasm was infectious.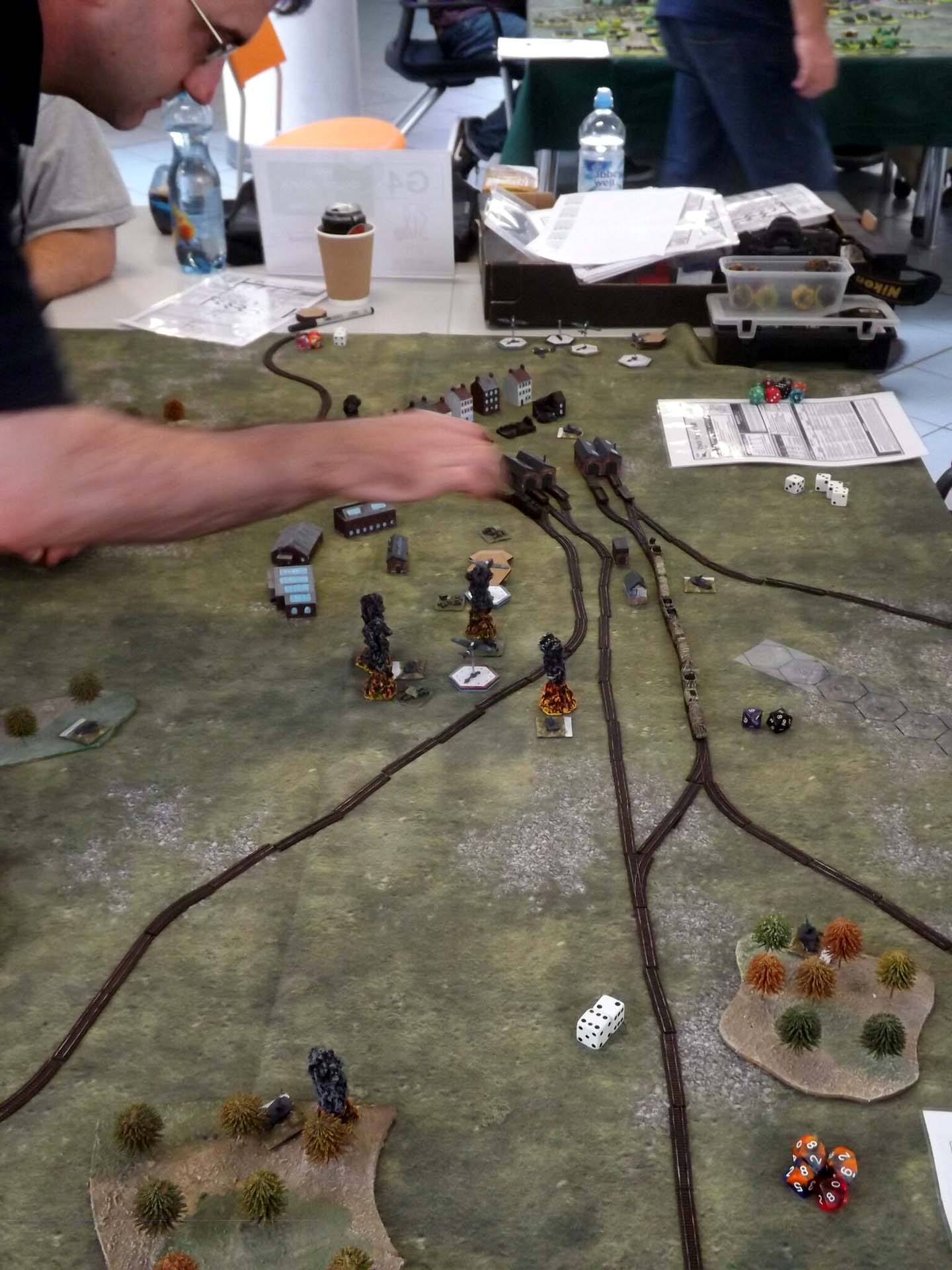 Just round the corner things became far more gentlemanly as game G5 from Commission Figurines showcased their mdf figures and scenics with a beautifully presented Napoleonic action complete with 'get yourself down with the action' viewing periscope. It's years since I've seen one of these and brought back many Featherstone inspired memories.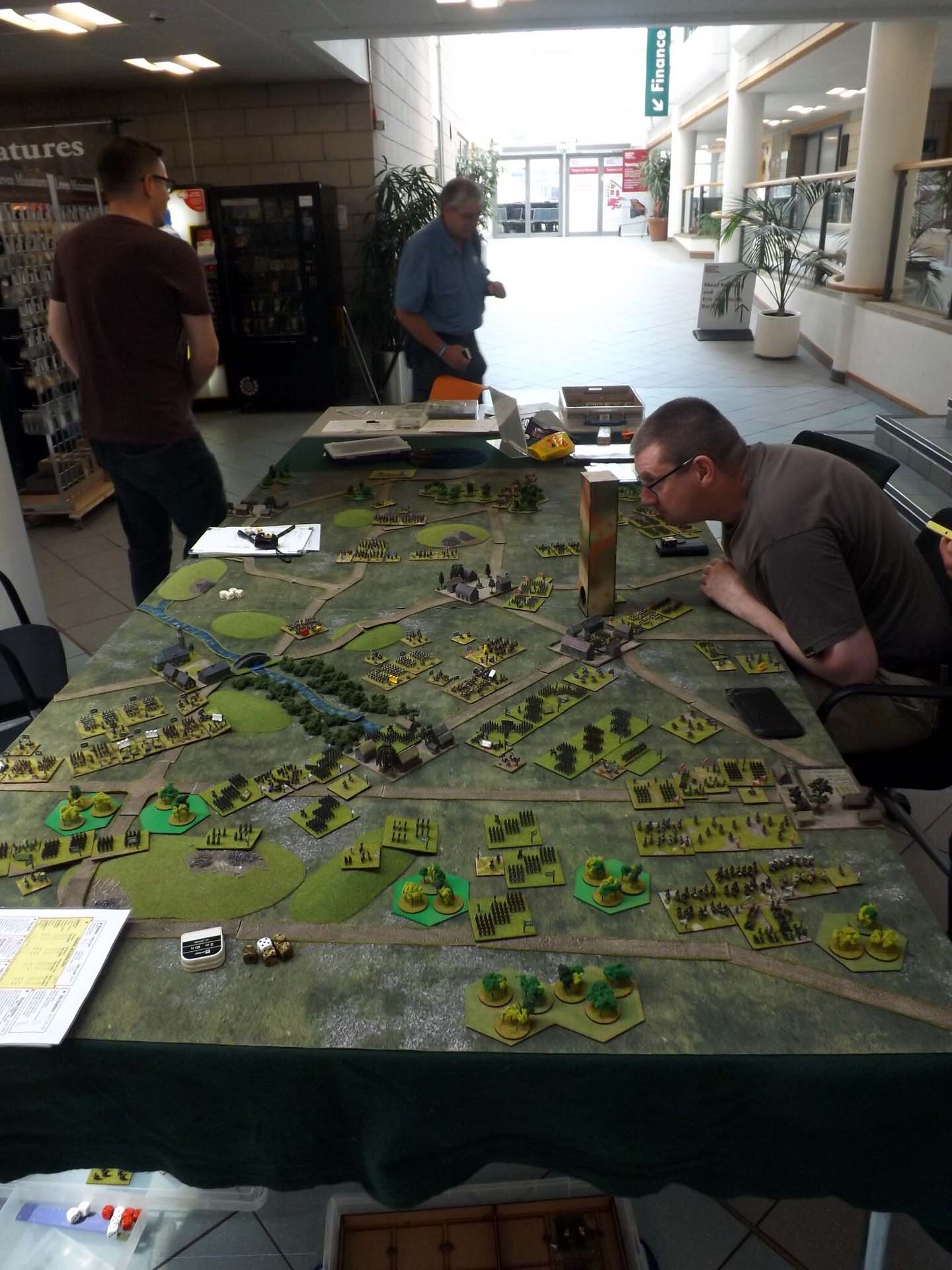 Moving into the main part of the Atrium, you couldn't help but stumble across G6 The Somme from Robert Dunlop and friends. This was the big feature game for this year and carried on a noble tradition of the JOS featuring a very special monster game each year. I'll let the pictures do the talking with this one…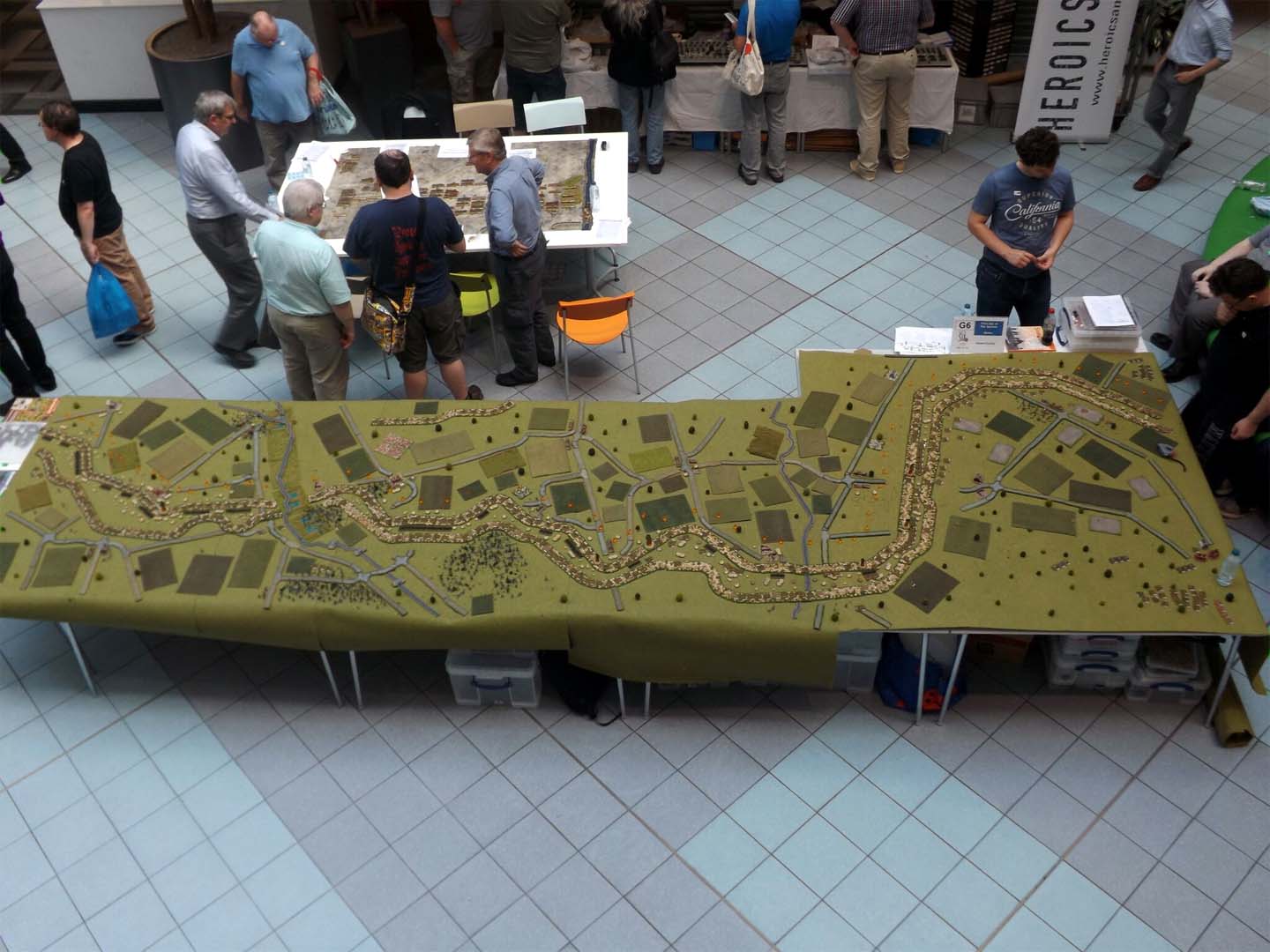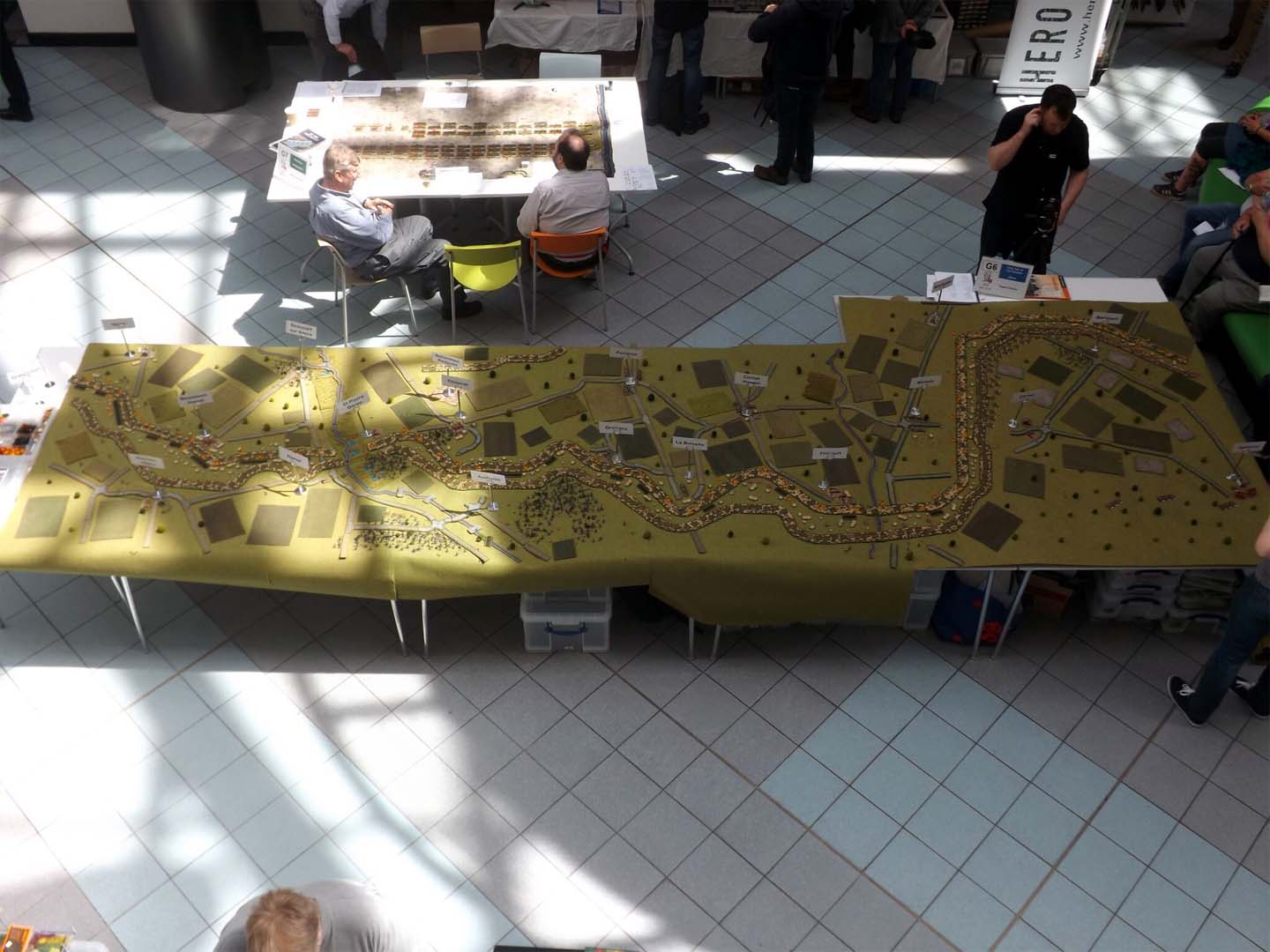 The next game, G7 Pharsalus was staged by Andrew Brentnall. With approximately 3000 figures on a 6 foot by 4 foot table this game probably had the highest density of figures for table area at the show, but to very great effect. Even with all those wee chaps in attendance the action was clear, and the games progressed smoothly. Lovely simple terrain and beautifully painted armies.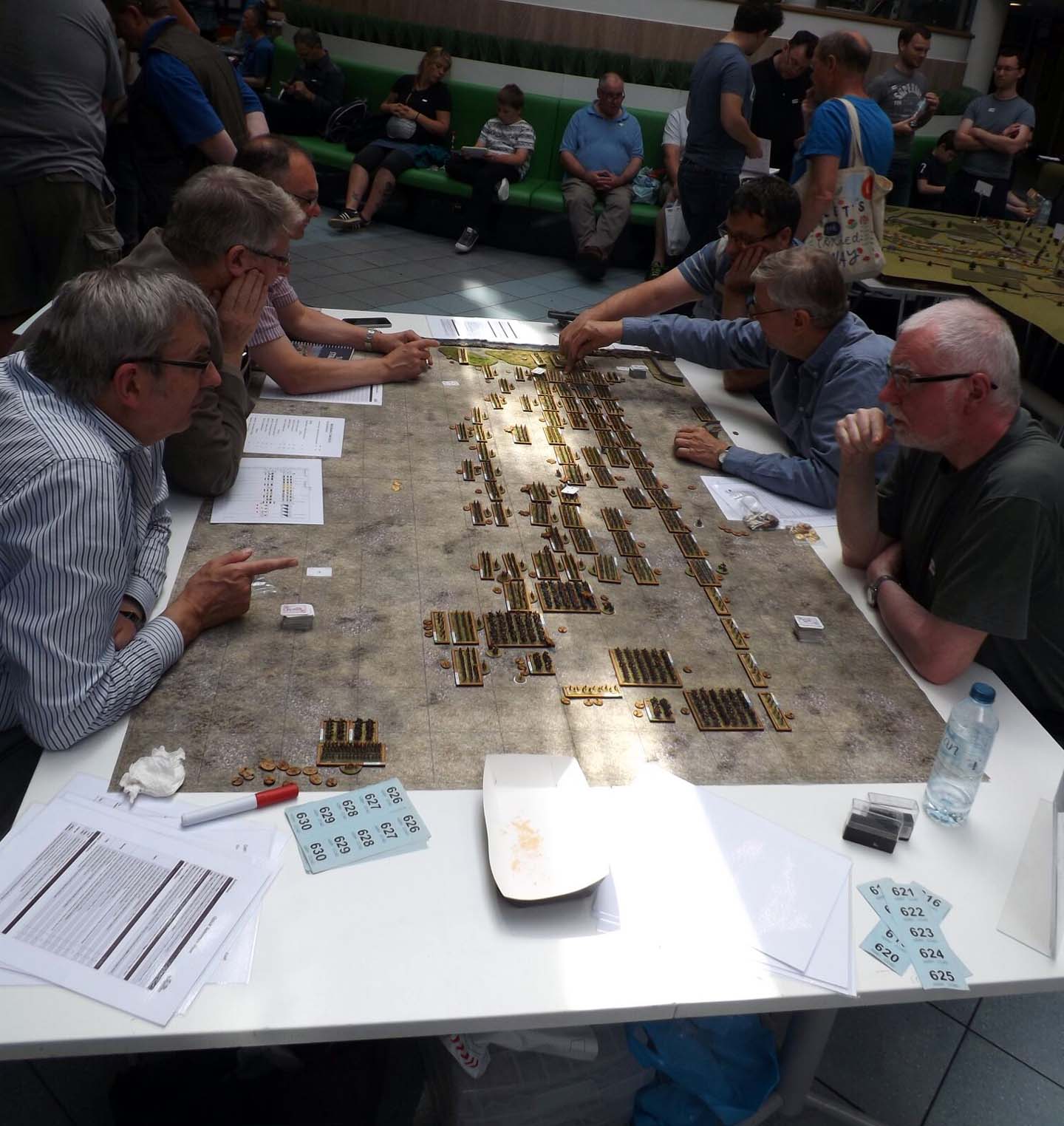 Sitting next door was something a little 'different'. G8 Saga in 6mm from the irrepressible Per Broden. Taking his break from a grand tour of battles of Great Northern War, Per decided to take a completely different tack and take a set of rules synonymous with 28mm figures and substitute them with properly sized toys. The result was clever, impressive and very popular indeed on the day. Ably assisted by Neil Shuck of Meeples and Miniatures the table was crowded from opening to closing.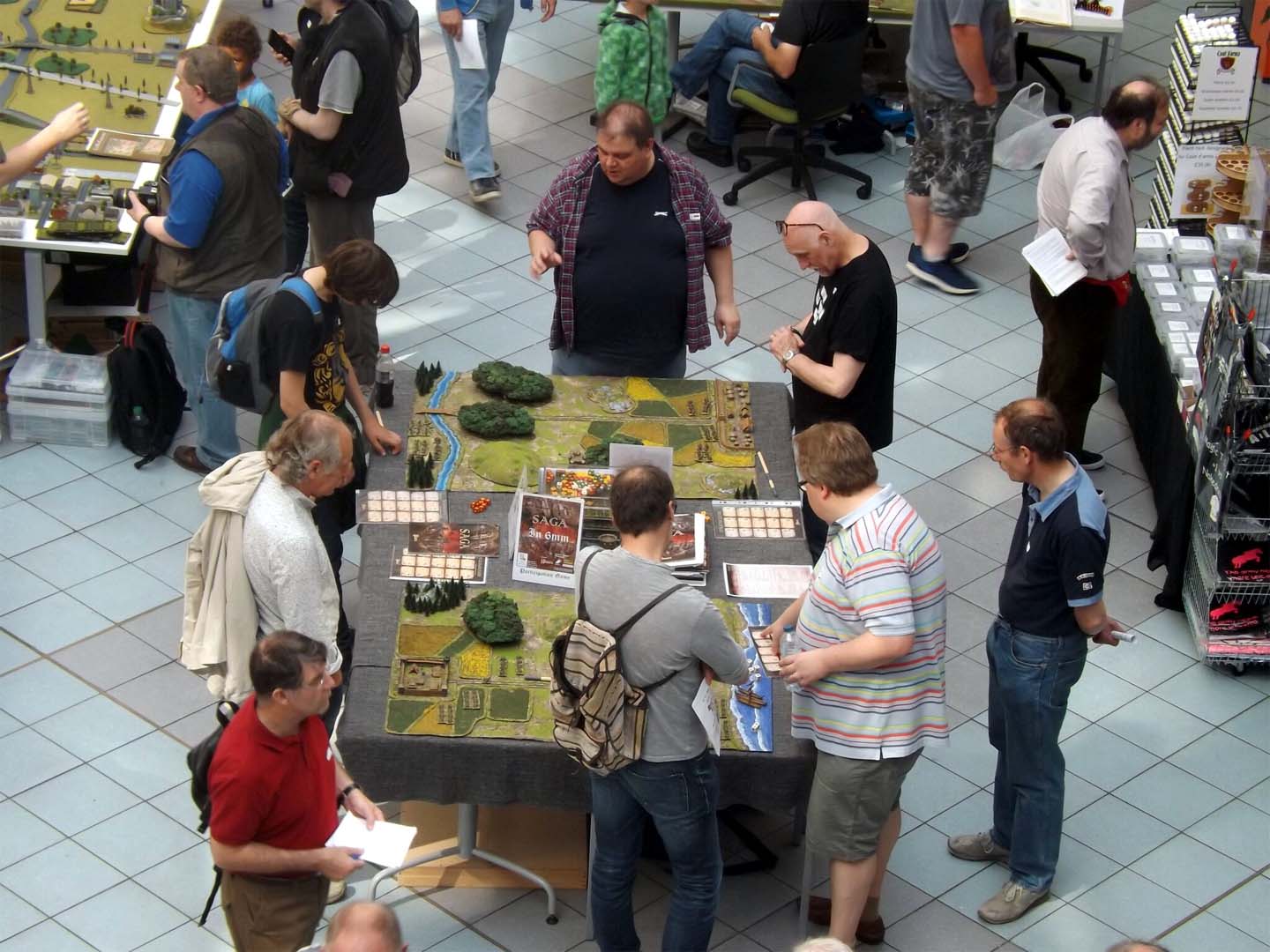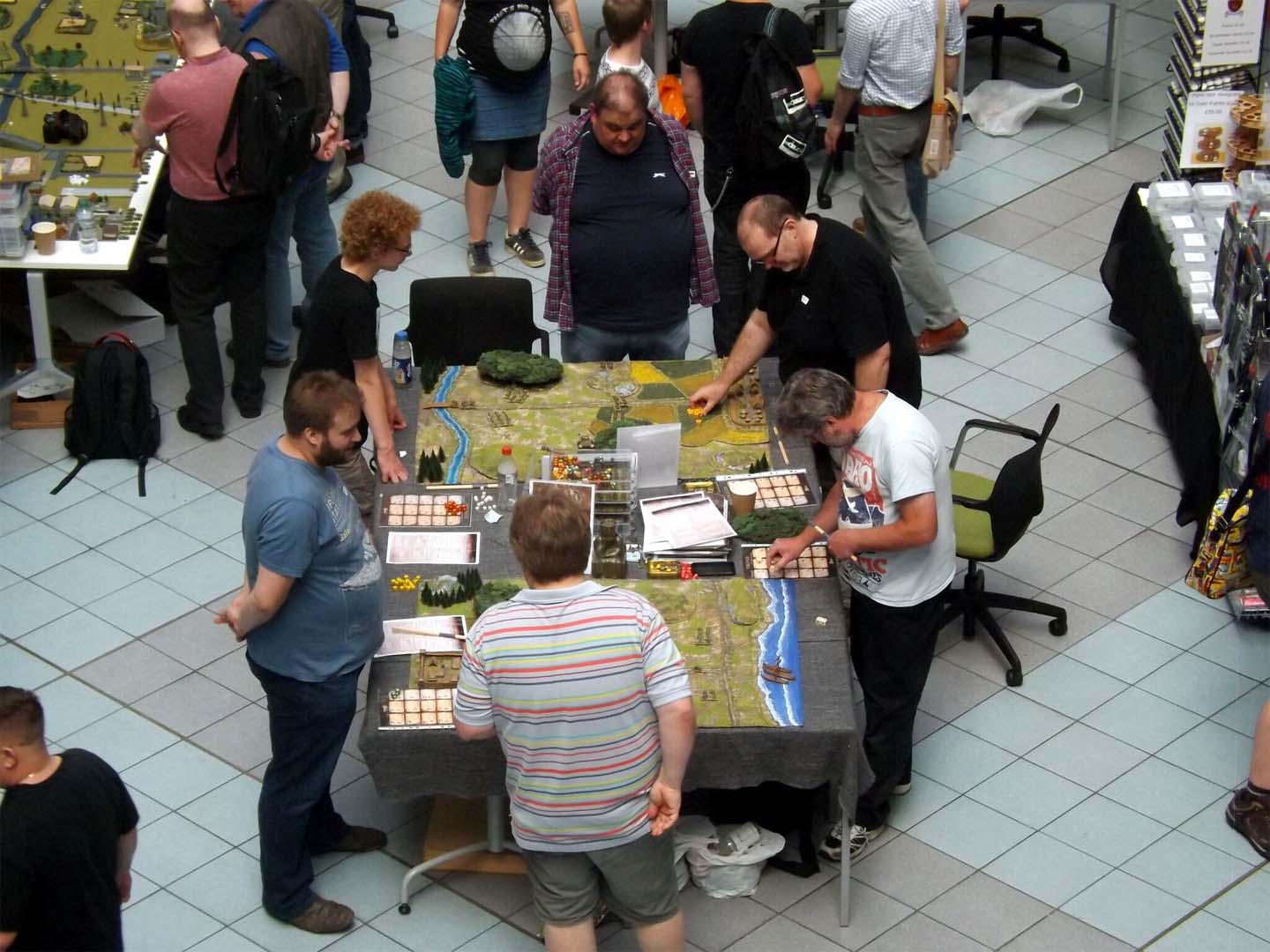 And with that lurch in scale and ambition that this show produced, the next game moved from small scale action on a small table to large scale action but on a smaller table as G9 Old Puttees from Baccus allowed players to move divisions against each other over a nice looking terrain board which, as it happen, was one recycled from our earlier 'Leipzig Lite' game – anyone recognise it?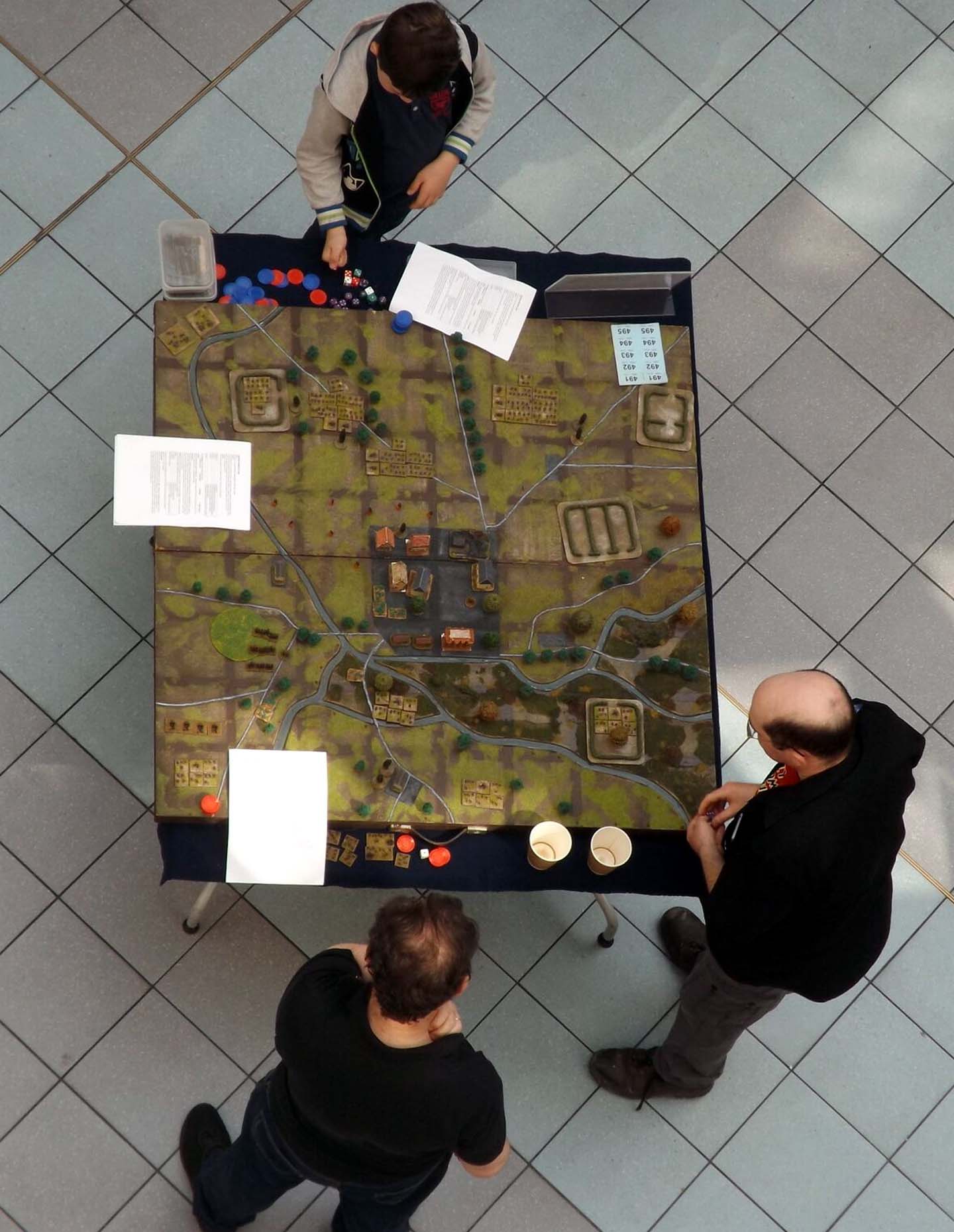 Game G10 saw the Cold War Commanders once more stepping into the realms of 'what if' with their Red Effect game. The CWC always put on a great display and this was their best yet.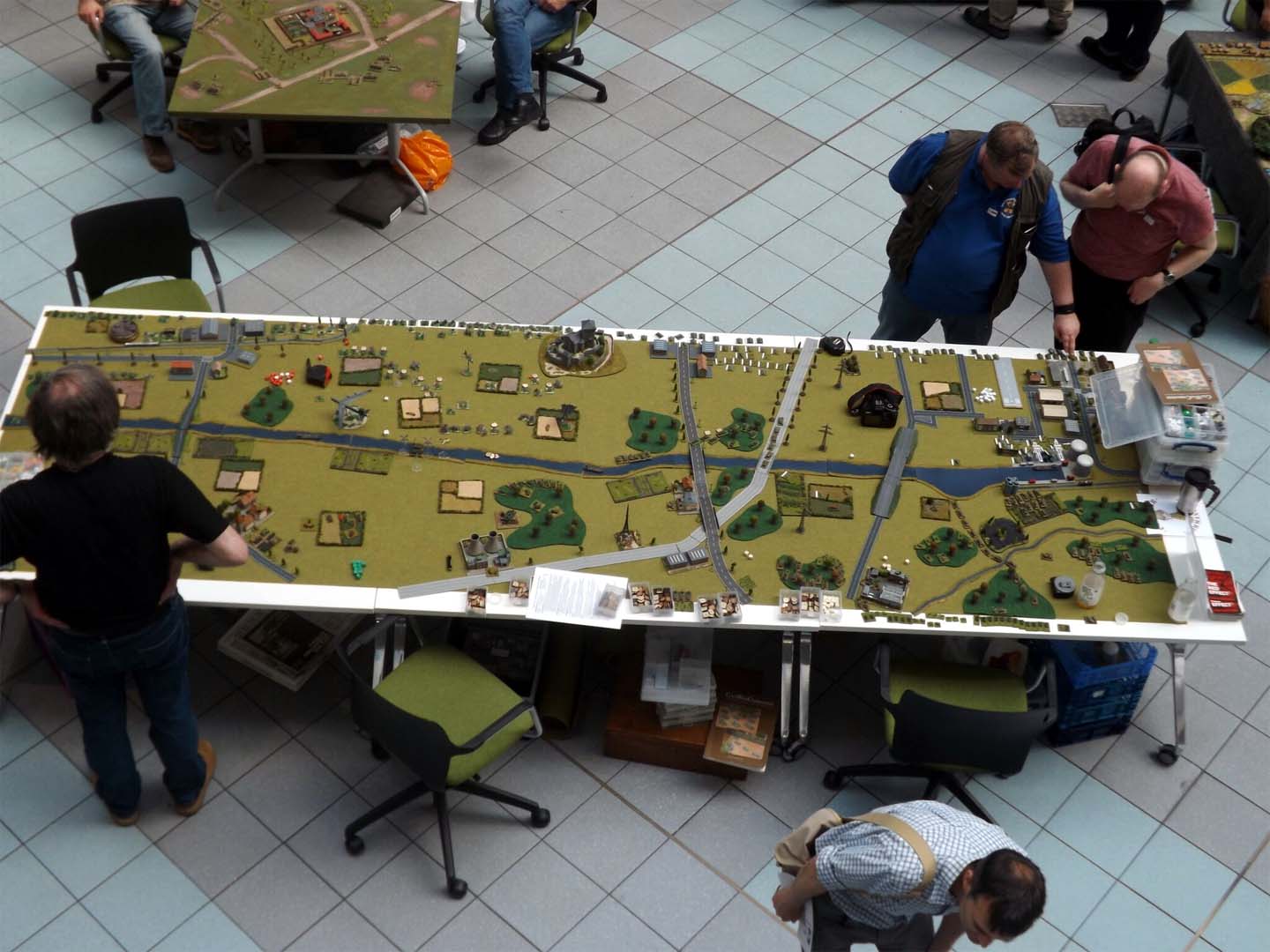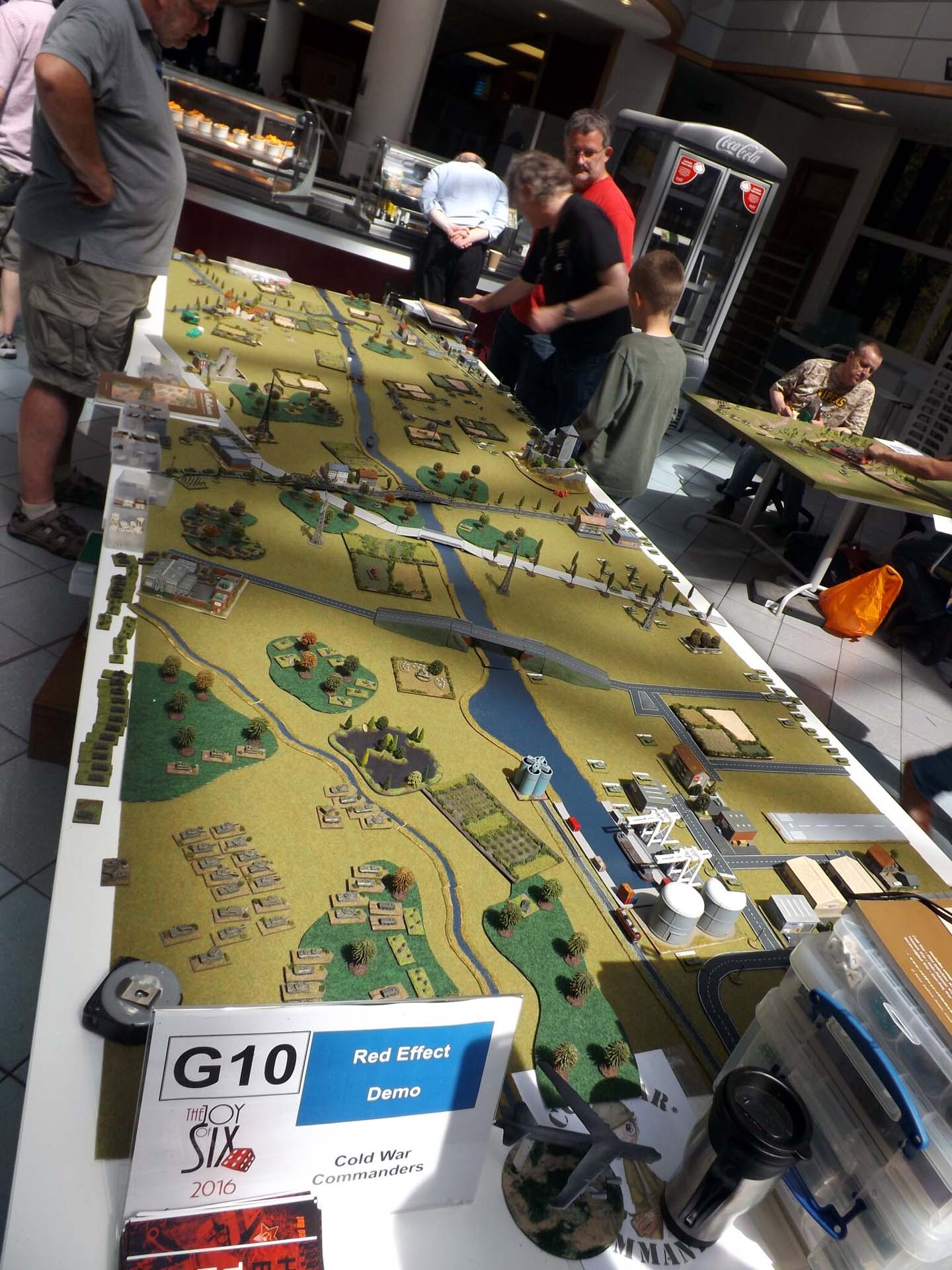 And finally for this part of the report we come to G11 Hougomont from the dynamic duo of Lee Sharpe and Ian Willey. After staging the monster Waterloo game at the JOS15, they took it far easier this year with a recreation of the attacks on Hougomont. They also seemed to take a break from organising as Ian's son is obviously the one on charge…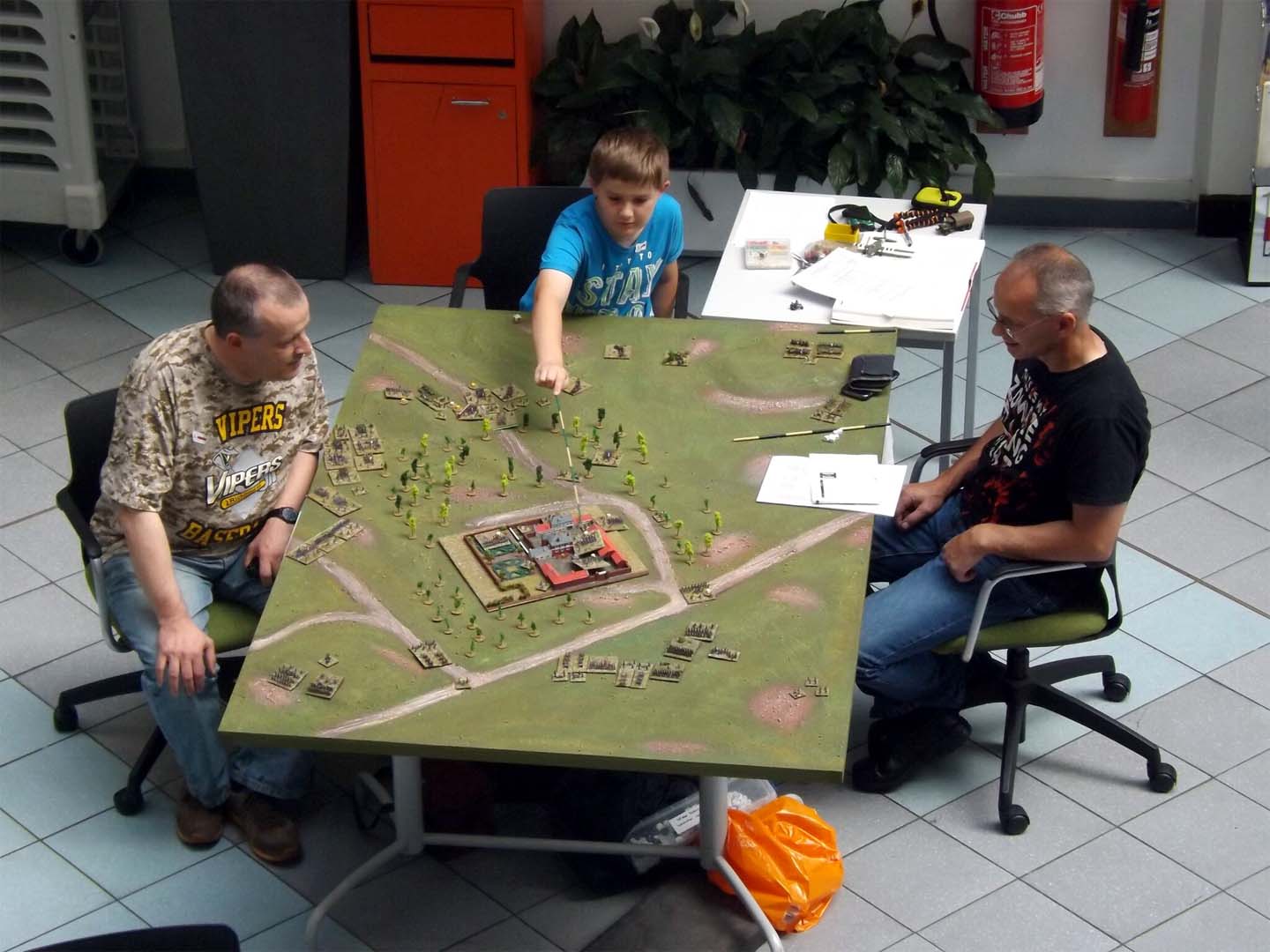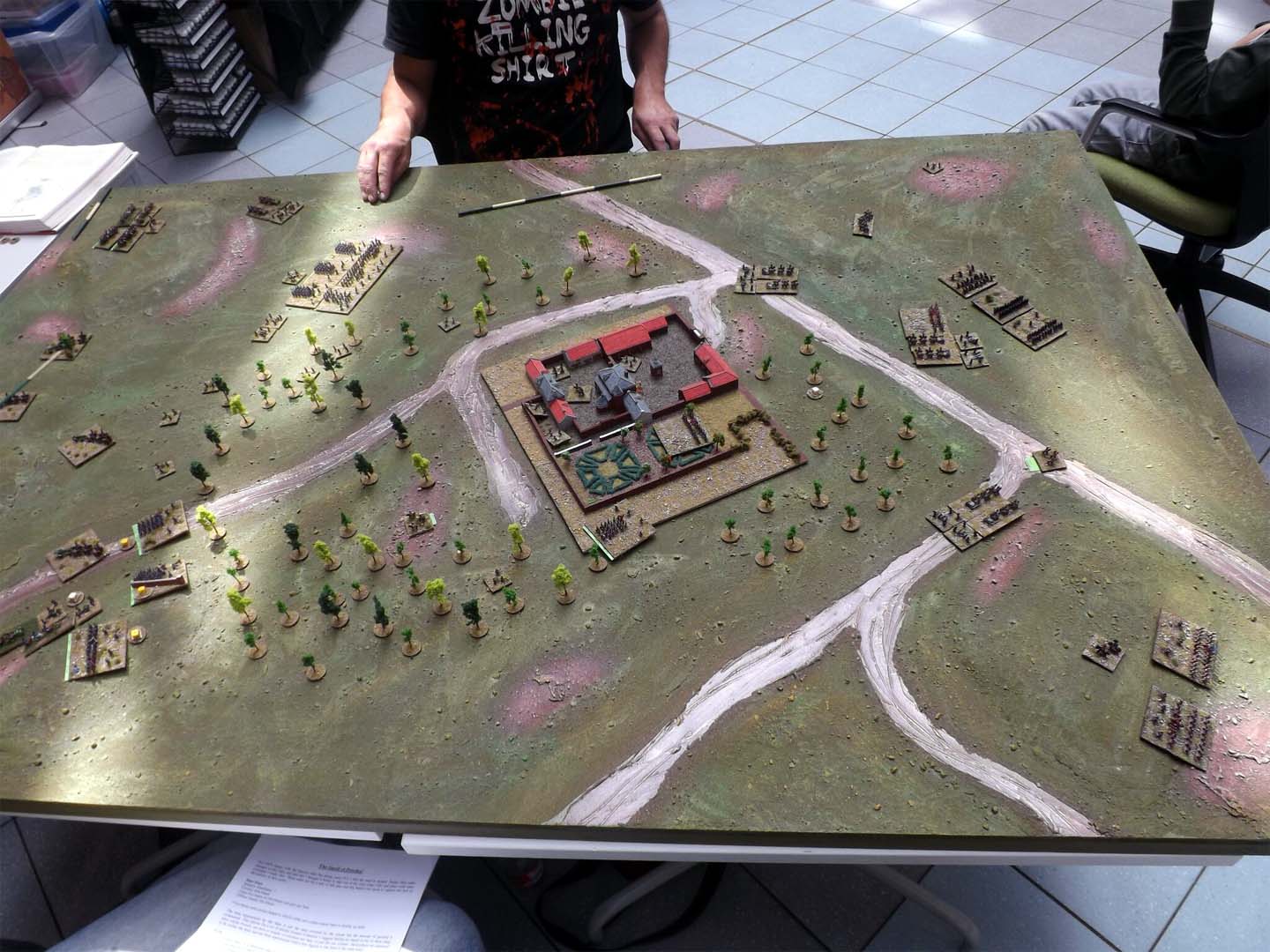 That's all for this half of the report. I hope you'll agree that the games thus far have been impressive, diverse and give a great idea of just what can be done with the scale. Trust me, there is more of the same to come!