Napoleonic Wars
A series of major conflicts pitting the French Empire led by Emperor Napoleon I against an array of European powers formed into various coalitions.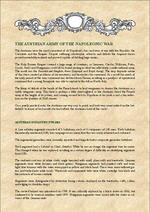 Austria
The Austrians were the most consistent of all Napoleon's foes and were at war with the Republic, the Consulate and the Empire. Despite suffering catastrophic setbacks and defeats the Imperial forces proved remarkably resilient and proved capable of fielding large armies...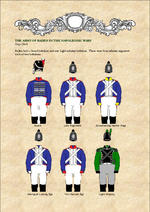 Baden
Baden had a Guard battalion and one Light infantry battalion. There were four infantry regiments each of two battalions...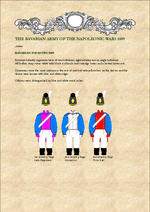 Bavaria
Bavarian Infantry regiments were of two battalions, light infantry was in single battalions...
Britain
The uniform coat for Line and Light infantry regiments was of red cloth, single breasted with small cuffs and turnbacks...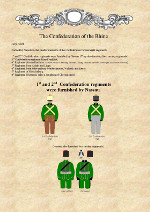 Confederation
Formed by Napoleon, the smaller members of the Confederation formed eight regiments...
France
If there is one certainty about wargaming the Napoleonic Wars, it is that someone has to play the French!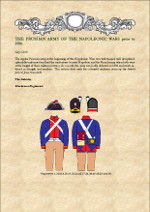 Prussia
The regular Prussian army at the beginning of the Napoleonic Wars was well trained, well disciplined, splendidly uniformed and had the misfortune to meet Napoleon and the French army when both were at the height of their military prowess...
Prussian 1812-15
The uniforms of the Prussian army after the defeats of 1806 is very complicated. The 12 regiments of the regular infantry wore the same uniform with different facings...
Russia
The Russian army fought against both the French Republic and Empire surviving numerous defeats...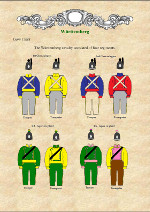 Wurtemburg
The Wurtemburg cavalry consisted of four regiments...