Franco Prussian War
There is a marked contrast between the state of dress of the two sides in the FPW. On the one hand the Imperial French army started the war with splendid uniforms which had more than a nod to the glories of the army of Napoleon I. By contrast, the Prussian troops were centrally equipped to a standard pattern of generally more sober cut and appearance.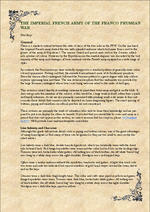 France
The various Guard and special units such as the Zouaves added rich splashes of colour. However by the Republican era this martial elegance was discarded by the vast majority of the army and shortages of basic material saw the French army equipped in a wide range of styles...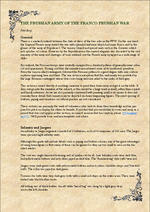 Prussia
The one obvious exception that this uniformity was provided by the large Bavarian contingent whose blue coats bring welcome relief to the ranks of field grey...